The Rode VideoMic Pro+ Part 3
Hands – on Review by Chris North
M.M.Inst.V
Chris north has done some more test on this microphone.
---
As I mentioned in the main rview of the Rode VideoMic Pro+, the jack plug at the back sticks out beyond the back of a DSLR so you can't get your eye up to the viewfinder.  Here is my simple solution – a small aluminium bar mounted on a cold foot 1/4 inch screw adapter with a cold shoe added at the other end to take the mic.  This means that you can remove the mic easily, leaving the extension bar on the camera if you wish.  It will look more professional when painted black !
---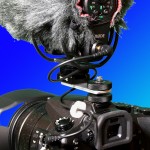 I have also fixed a cold shoe mount to a 'replica' bracket on a Rycote hand grip so that I can move the mic quickly from the camera to the hand grip for hand held interviews using a 3m extension cable.  The cable is fixed to the hand grip bracket with a simple adhesive backed cable grip.
Using an extension cable rather than a jack plug-to-plug cable means that the short thin jack lead supplied with the mic can be left attached to the mic so it will not get lost.  This arrangement also means that no physical sound will travel up the cable to the mic, especially if you push the thin cable into the small 'hidden' grip groove under the lyre mount.  I have also fixed a cable grip to the camera to take the strain off the camera's mini jack socket – essential to avoid socket crackles when using an extension cable.
---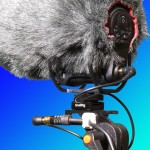 The 1/4 inch cold foot adapters are widely available, as are the cold shoes (I found that the cold shoes by SmallRig are excellent and very well engineered in aluminium).  They have a slight taper at the end so that your cold foot grips firmly and does not slip through when inserted – and they come complete with a 1/4 inch screw and two 2.5mm bolts along with allun keys for easy fixing.  The replica bracket for the Rycote handle was made from a piece of stout angle plastic – but you could make one out of aluminium.
---
Chris North©2017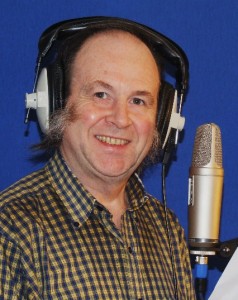 For full details and specifications of the Rode
VideoMic Pro+ see the Rode Web site  : 
https://www.rode.com/microphones/videomicproplus