After the problems and trauma of the exploding Galaxy Note 7 batteries last year, Samsung has pulled out all the stops with its latest creation – the Galaxy S8 smartphone – in a bid to win back customer confidence and to demonstrate their commitment to both safety and innovation.  The launch of the Galaxy S8 (4pm 29 March) was rather like an Apple product launch, with all the glitz, anticipation and glamour of a big theatre production – staged in the US, with a live transmission to its London audience.  The difference was that, unlike the Apple launches, the main features of the Galaxy S8 had been extensively leaked well beforehand – presumably to generate customer interest.  And it seems to have worked.
So the 'show' was more about what you can do with this smartphone rather than the technical specs, although much was made of its longer, sleek 5.8″ (2960 x 1440) Amoled screen with its curved edges.  Samsung sees this phone as being an integral part of your life – an indispensable tool for business and everyday activity. From smart home control and monitoring to voice activated intelligent searches and the ability to use it like a computer with a mouse, keyboard and monitor.  Not entirely revolutionary in themselves, but here we have an attempt to integrate and simplify functions in a comprehensive and co-ordinated way – more like the Apple approach perhaps? Of interest to videographers and video journalists is its 4k, 12M pixel camera – now opening up to f1.7 for better low light capabilities – further enhanced by larger pixels and processing – and with very fast 'blink of the eye' focusing, thanks to the development of dual pixel technology.  There are also pro control options for ISO, Shutter, Exposure, Colour, Focus and White Balance, so we should now be able to make full use of filming apps like Filmic Pro and Cinema FV-5 on Android. For video journalists and selfie addicts the front camera has now been upgraded to 8 megapixels with face recognition and auto focus, also at f 1.7. Oh, and it's waterproof as well.  At last an Android phone that can rival the controls and functionality of the iPhone.
And unlike Apple phones, it can accommodate expandable memory up to 256GB – just drop in your micro SD card – so it is ideal for video shoots and event recording.  There's also slow motion support – 240fps at 720p. It also comes complete with AKG earbuds for audiophiles to complement its 32 bit PCM sound capabilities – and unlike Apple, it retains a 3.5mm audio jack socket.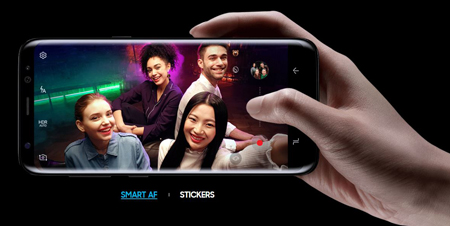 With a menu of security features such as face and iris recognition and fingerprint activation, plus electronic payment apps, it should appeal to a wide range of affluent consumers – it will cost £689 and can be pre-ordered.  It should have been available as from 21 April.  The larger S8+ will set you back £779. For Details see : https://www.samsung.com/uk/smartphones/galaxy-s8/design/ https://www.samsung.com/global/galaxy/galaxy-s8/specs/ Chris North M.M.Inst.V. IOV Midlands Area Rep