Film Summer School:  16-20 August 2021
Once again, Ian Sandall will be running his popular Film Summer School in Greater Manchester!
---
Ian originally ran the class for several years whilst Head of Film at Spirit Studios in Manchester. Of all the summer school courses offered there, this was by far the most popular and often sold out several weeks from July to August.
After a trial run in 2020 in which a limited number of people attended for one week (due to COVID restrictions) a now independent Film Summer School returns in 2021 in a new larger studio and with more high-end equipment to shoot with.
---
The concept is simple: walk in on Monday morning and even if you know nothing about film or are only an amateur, you can walk out on Friday afternoon having been a part of a small team that made a professional film. It might be a drama, a documentary or a TV show pastiche – but you'll have worked as a team to write it, appear in it, film it and finally edit it.
---
That's how it works every year – and every year we're amazed at the talent that comes walking in the door on a Monday morning. Summer School covers everything you need to know about making videos – and nothing you don't. Based on Ian's many years of video production experience, this is the ultimate film primer. Whether you're an amateur, a student or are thinking about working in the business, this could be a great taster!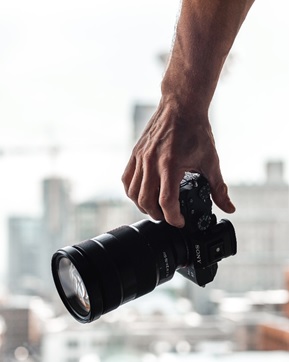 In five action-packed days we cover:
How video cameras work (includes DSLR and mirrorless)
Shot framing and composition
Audio – microphones and recording
Film lighting basics including greenscreen
How to create the story arc and tell a convincing tale on film
Scripting techniques for different genres
Filming tricks and techniques for professional shooting
Safety on set and crew responsibilities
Editing: basics and advanced techniques
Anyone with an interest in film or the arts will benefit and can attend – there are no real restrictions, although you should have good spoken and written English and be reasonably computer-literate.
Over the years we've had people from ad agencies, design companies, PR companies, SEO companies, and many more media-related fields. We've also had many students, writers, actors, third sector workers, as well as retired people.
---
The only other essentials: you must be over 18 and have a real passion for film and TV!

---
Now booking for 16-20 August 2021

---
Venue: 360 FOTO studios, Ashton-under-Lyne, Gtr Manchester.
Times:  Monday to Friday, 1000 – 1645
Small class sizes ensure plenty of time for 1:1 coaching
Industry-experienced tuition staff
6 hrs tuition per day
Kit supplied – but you're also welcome to bring your own
Convenient location in Ashton-under-Lyne with excellent public transport links to Manchester City Centre.
Easy motorway access from M60 with free parking.
For more information or to book, please go to the Summer School Website.
 Earlybird offer: Reduced ticket prices for bookings before 15 June.
 Ian Sandall is an educator and film-maker; he runs SPL Communications, based in Greater Manchester, a content creation company concentrating on business-to-business communications.
If you have any specific queries, please email info@filmsummerschool.com or call 0161 850 8005.