Chris North takes a look at CoreMelts Tracking Plug-ins which enable you to track titles and adjust parts of a moving image.  There is a fully functioning free trial and 30% discount if you purchase during the current NAB promotion before 18 April 2018.  see  www.coremelt.com.
---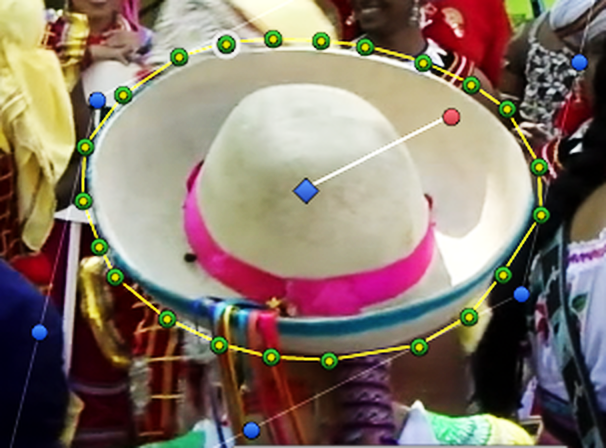 These three plug-ins by Australian company CoreMelt are real game changers if you need to process or replace part of a moving image, or just add a label that follows a person or object in perspective.
They are all based on an award winning tracking engine called Mocha, which can track any two-dimensional object accurately in filmed '3-D' space. Once you have defined the outline you wish to track or apply an effect to, it will automatically follow it. At its simplest you can add a label that follows, say, a car or a person through a landscape (DriveX) and at its most sophisticated you can replace, say, a poster on the side of a moving bus (TrackX) or re-colour someone's lips (SliceX) or you can add laser, smoke or light effects that move dynamically with the filmed person or object (DriveX effects).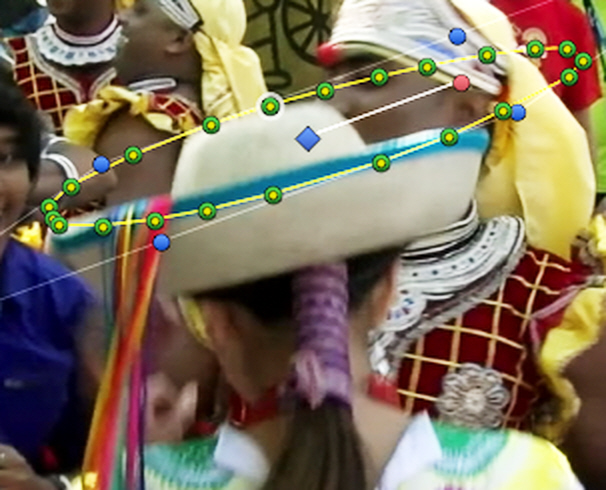 The two dimensional outline of an object, once defined, will scale automatically as the object gets closer or further from the camera or moves across the screen AND the outline will change perspective to match the object as it turns. AND you can replace the object with a different picture or video that will change in perspective in the same way – automatically. Wow !! So you can process and add effects to part of an image which moves and changes scale continuously or you can reverse the tracked area and process only the background around it. You can also add your own key-framed adjustments if necessary.There are limitations of course. The software can only track a 2-D surface.
Think of it as a photograph being held up in front of the camera. It can track the outline of the photo or a reference object within it. It will scale and follow perspective changes (if that is what you have set it to do) but it won't adjust to changes in the overall form or shape of an object – you have to do that by adjusting the outline manually – by pausing the automatic tracking and dragging the nodes that define the shape. It can, though, follow a face, which it sees as a 2-D surface for the purpose of tracking. It just locks on to the eyes, nose and mouth and sees this as a flat surface with reference points and follows that. As the face turns, the 2-D surface turns and can change in perspective.
Now to do all these things you would need all three plug-in suites – but you can buy them singly, or in pairs, if you do not need all the features. So let's take a look at each in turn.
---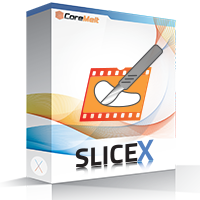 SliceX : Effects and Compositing SliceX lets you cut out part of the shot with a MASK, then track the Mask to the movement of an object in the shot. You can then apply effects to that part of the shot, including sharpen, colour, blur, glows and colour correction. You are not limited to the built-in effects either. It will work with other FCPX effects or third party plug-ins. SliceX can also be used to mask and reveal titles with a complex object overlay.
There are 10 effects that appear under SliceX in the Effects Pane which you drop onto the clip and also three shape masks which appear in the Title pane (SliceX Adjust) which you place above the clip, like titles. These include Vignette, Shape Mask Border (editable) and an Adjustment Layer. You can drop any other effect onto the adjustment layer. Everything is very flexible and intuitive.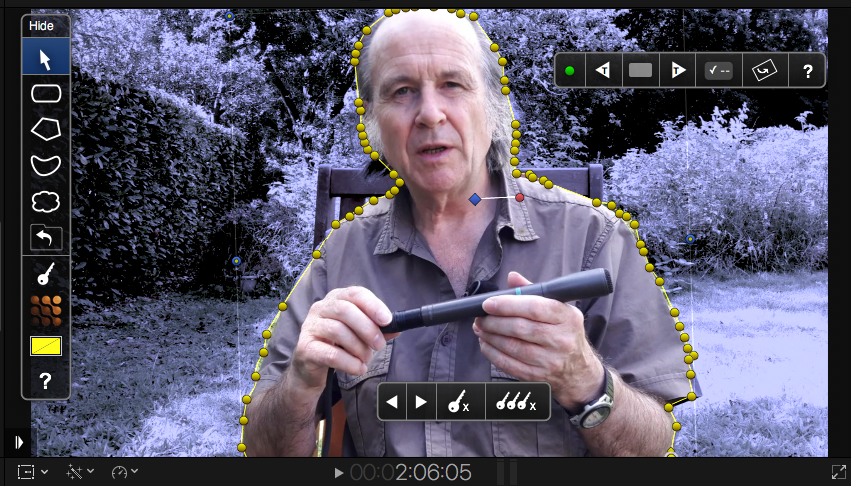 The process is quite simple. To apply the Effects you place your clip in the timeline, drag and drop one of the SliceX effects onto it as you would with any FCPX effect – such as 'blur' or 'colour'. This will generate a standard rectangle or ellipse shape, which you can move, rotate and resize – or you can click on one of the other shape tools to draw a more complex and accurate outline to precisely limit the extent of the effect.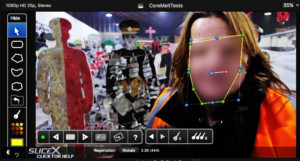 There are several options for drawing the tracking area or mask (shown on the left hand side of the CoreMelt screen) which are the same for DriveX and TrackX also. In addition to the simple rectangular/ellipse there is a polygon tool for drawing around more complex shapes, a bezier curve tool, a quick outline trace tool and a set of default shapes such as star, bridge, cross, wave etc. to speed up your workflow. Initially I looked at SliceX as a means of blurring out faces without having to keyframe each movement manually, but I soon found that it had many more uses than that.
---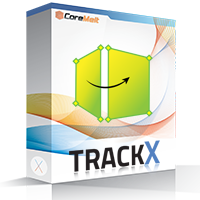 TrackX : Screen Replacement  Adding Video and 2-D elements TrackX is probably the most impressive of the three plug-in suites from a user point of view, since it can be used to replace signs and screens (2-D surfaces) with video in 3-D space. The replacement video moves and reacts as though it were the actual video on the screen (such as a phone screen), taking on the perspective of the screen as the screen is moved around in 3-D space.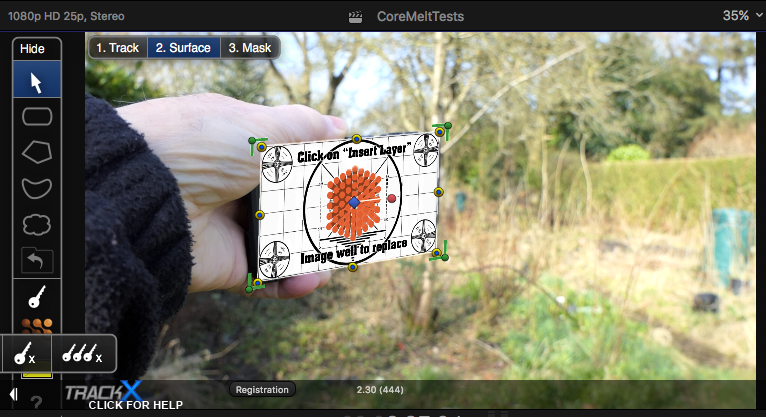 There are 3 parts to TrackX – Simple Tracker, Track Layer and Track Text. These are located in the FCPX Generators browser and look like white film strips. (There are also a couple of 'trackflair' effects thrown in which are in the FCPX Effects Pane).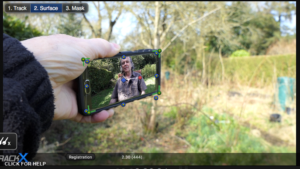 Track Layer is the most sophisticated generator. It is applied in a three stage process shown on 3 buttons at the top of the TrackX screen. First you define and Track your object, then you replace the standard target graphic with your own video (called the Surface) and finally draw a mask to define the precise area of the object you wish to replace. You will need to see the original timeline video in order to draw an accurate mask, so you have to make the inserted video more transparent from a concealed TrackX menu. Type Ctrl+V to reveal it. Finally bring the opacity back up to 100% to reveal the full effect. The example given on the CoreMelt site shows how a poster on the side of a bus is replaced with moving video (the bus drives across the shot and away in perspective). The video just looks as though it is on the side of the bus and the picture changes perspective as the bus passes. Simple Tracker is a more basic module which just provides a simple (but adjustable) rectangle over (or next to) your tracked object, which will move with your tracked image in 3-D space, so it is quicker and easier to use.
Track Text
brings in a text area which will follow your tracking point. It can be set to move in a fixed plane or in perspective with your object. The text will stick to and move with the point you have chosen – and of course you can adjust and re-position it. You can stack as many TrackX Generators as you wish, each with its own text – the example on the CoreMelt site shows height labels on the top of skyscrapers being overflown by the camera.
---
DriveX Consists of 21 particle effects (shown in the Effects Browser)
and 29 Call-Out Label Templates (found in FCPX Titles browser).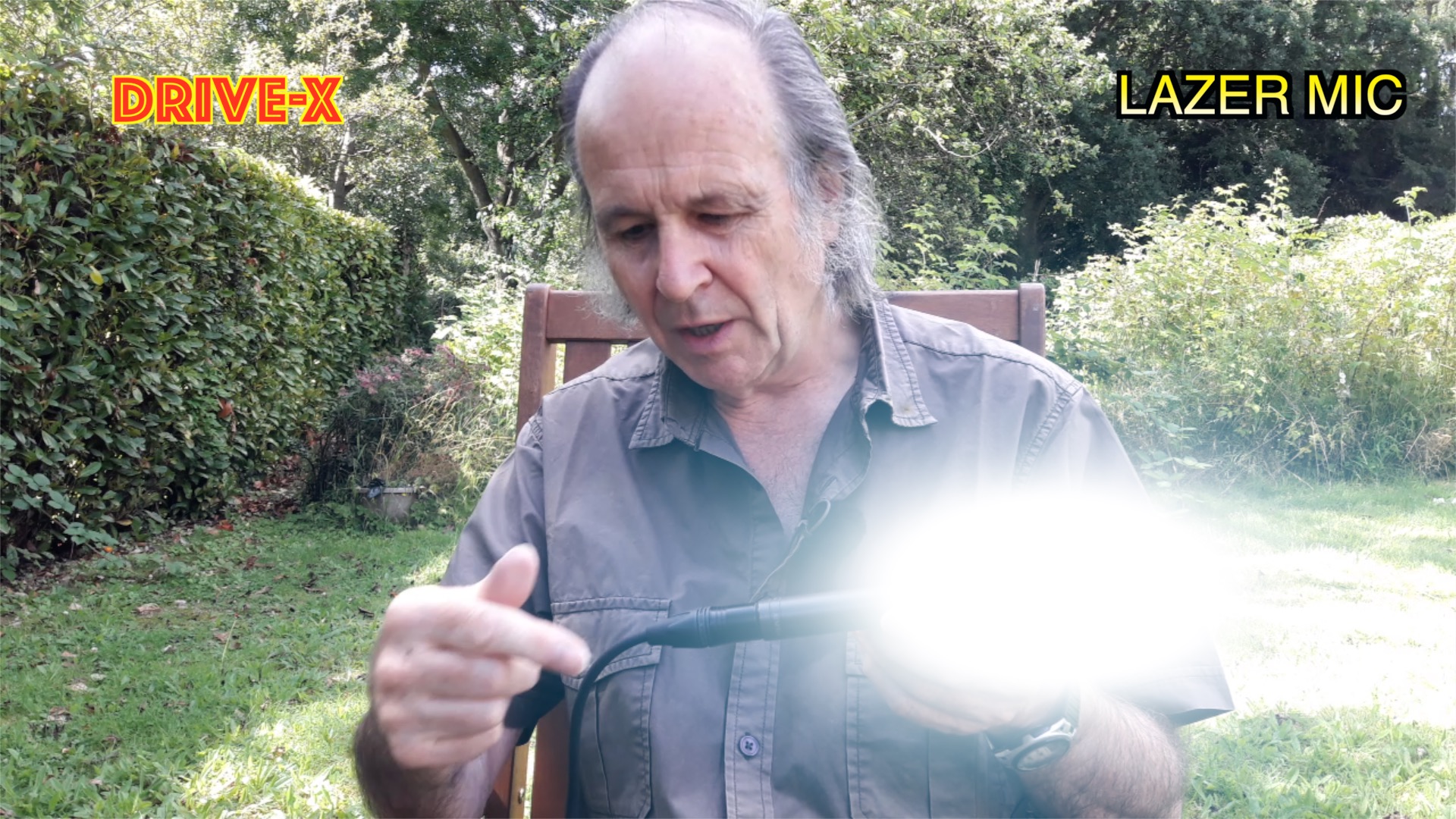 The Particle Effects are quite impressive – including lasers, light cones, point source rays and smoke that trails the movement in a realistic way. These are quick and easy to attach to a moving point in your clip. All that is required is to drop the effect onto your clip (not above it), track the point and set 'Adjust Offset' to fine tune the anchor point. You can even create your own effects in Motion with 'Template Open in Motion'. Star Wars on a budget !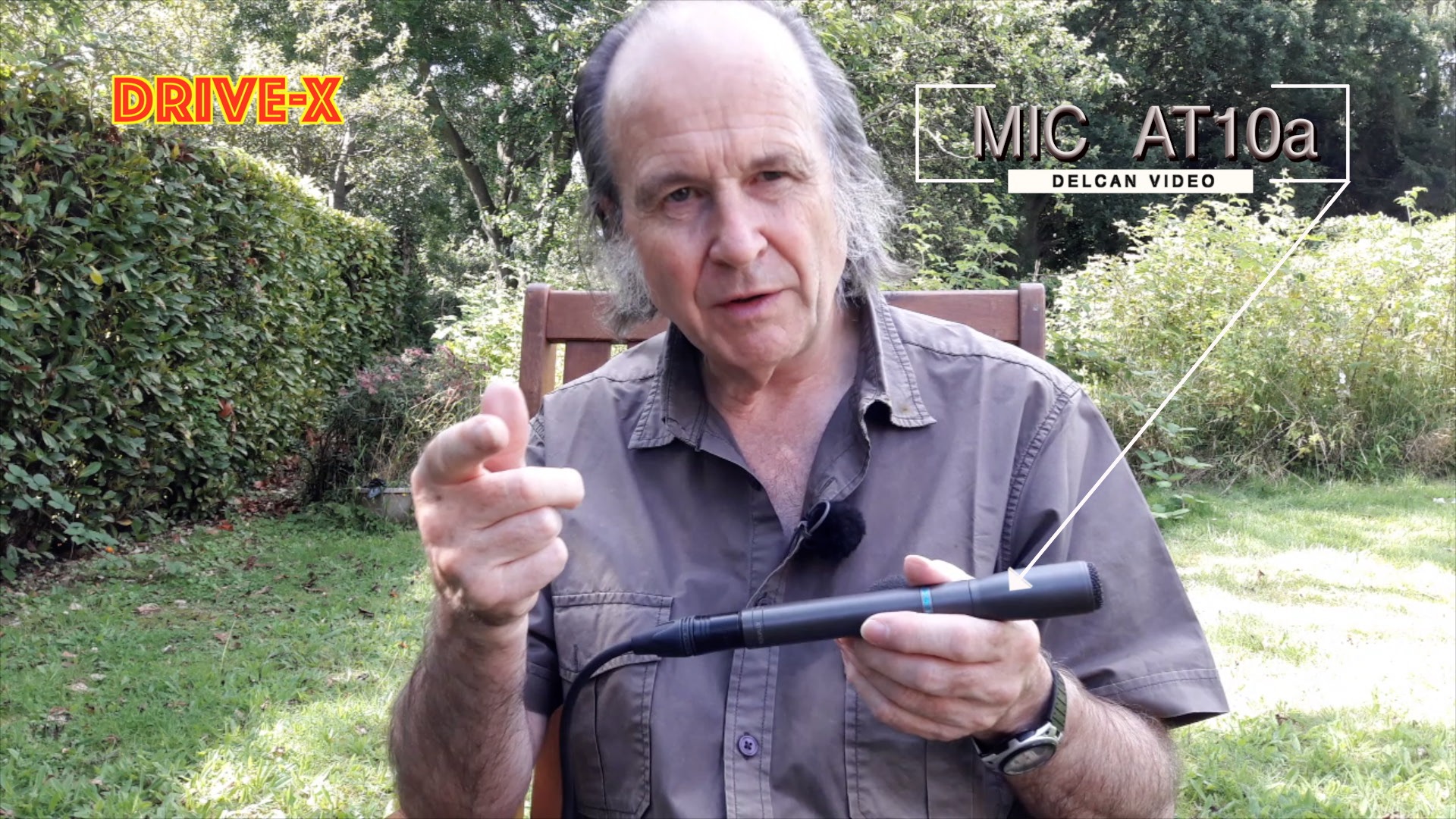 Call-Out Label Templates are applied just like any other FCPX Title. They are placed above the timeline clip. There are a couple of dozen of these. They consist of a text box and a line. The text box remains static on screen but the end of the line sticks to your tracking point once you have tracked an object. You can, of course, change the font, size position, colour etc.
---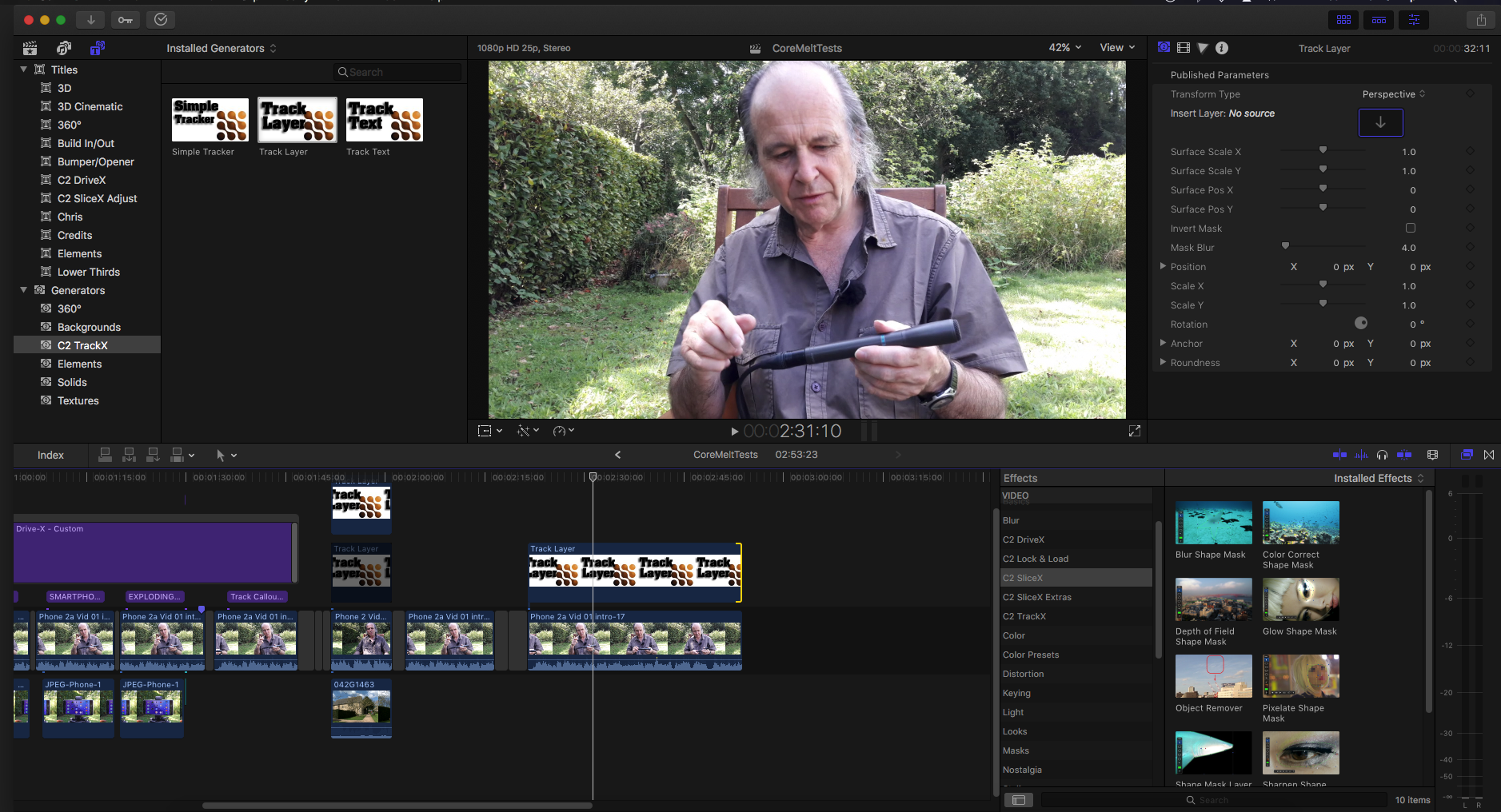 Which One is for you ? Well, probably all three, since they will open up your creative mind – but if you are on a tight budget or just need a particular feature, you can buy SliceX (£50), DriveX or TrackX singly at $99 each (about £71 GB) or all three for $199 (£143 GB) – or TrackX and DriveX together for £107 GB. (Check www.coremelt.com for current pricing). You can Try-before-you-buy with the free 14 day trial. But beware, you'll probably get hooked ! SliceX will continue to work after the trial period with just the rectangular and circle track tool if you request a free registration code, so you can track and blur faces for free for ever.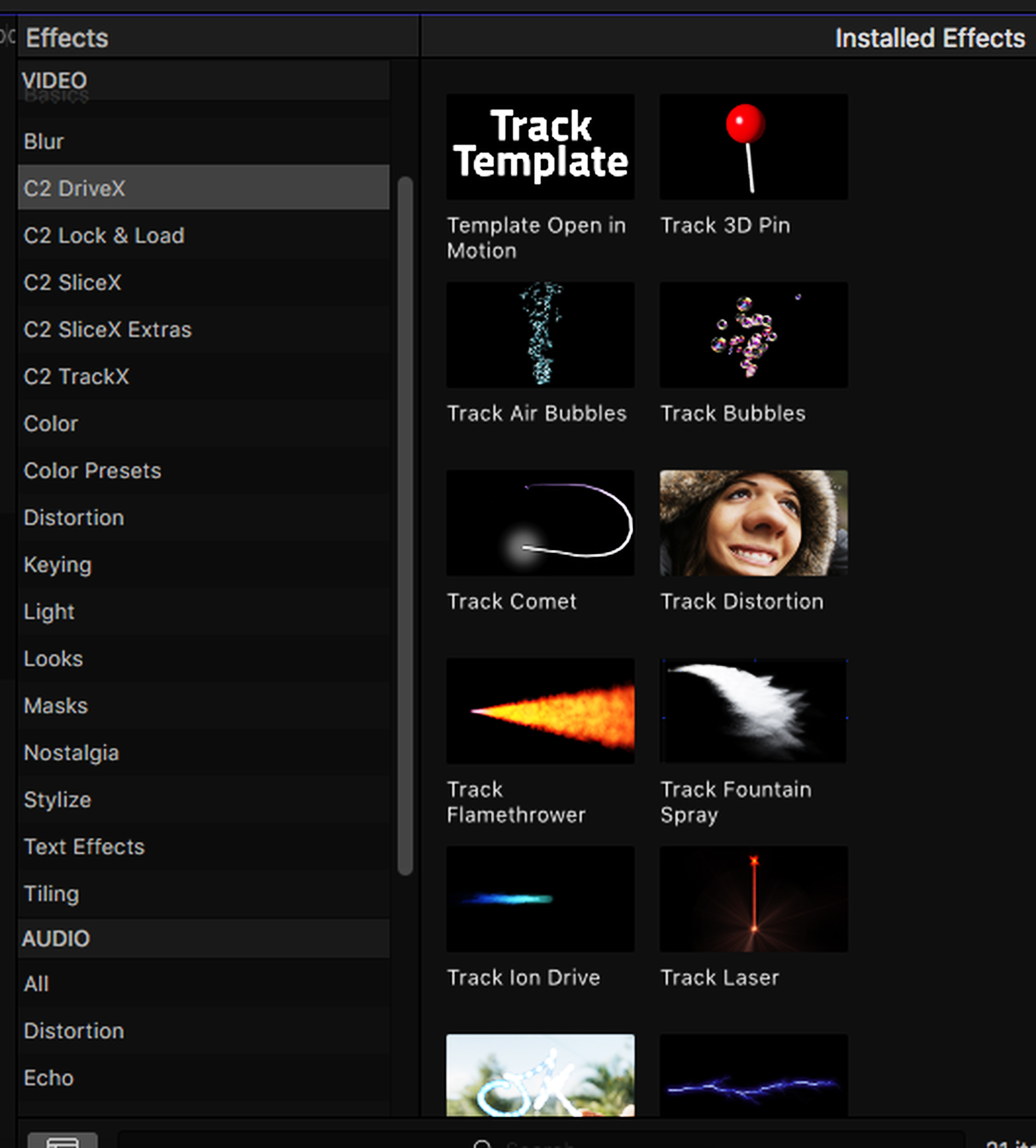 Ease of Use
As things go, all three plug-ins are fairly easy to get to grips with – but it is advisable to wait for a background process to finish before you start the next action, otherwise things can freeze (there is always a delay before Tracking starts). You also need to follow the order of actions carefully in some cases. For example, in Simple Tracker you just click your insert clip in FCPX clip browser and apply – it will then appear on screen as a rectangular clip. In Tracker Layer you first have to place your insert clip below your main clip in the timeline. This is so you can apply a mask to define the insert window at the end of the process. And you have to make sure you have activated the right bit of the three stage process in Track Layer. One thing I got wrong when I started was forgetting to move the play-head back to the start of the clip before tracking – so I only got a partial track. Although you can track from any point, forwards or backwards. Also, if you activate the Keyframe key icon it will set keyframes every time you move something – good and speedy if you intend that but confusing if you don't !
Tracking a detailed outline is very good and accurate with clearly defined objects such as a phone screen or birdbox but it can lose the outline of objects that change their overall shape rather than just perspective, such as my dancer's hat. It is quite easy to adjust the track as you go along though – just pause tracking, drag the shape nodes back to the correct outline and track again until it slips – then adjust again. The keyframed adjustments will be saved automatically.
Support
Customer support is impressive – in fact support for potential customers is impressive. I had a bit of a problem getting the trial registration screen to come up and they responded the next day each time I emailed. I had experienced a similarly quick response when I had a query with Lock&Load a couple of years ago. They are a really professional team, keen to get you up and running – even with the free trial.
Final Impressions
I started out looking for something that would take the slog out of tracking a face blur – and finished up getting hooked on a whole range of plug-ins and effects. The ability to apply effects dynamically to a shape means that you can process any part of a moving image with any effect you wish. If you buy the set, having a whole bunch of built-in effects which you can apply and adapt is a boon. If you are familiar with Apple's Motion you can also build your own. Whether for titles, promotional videos, fashion, Sci-Fi, documentary, sports or weddings, you have a whole range of professional effects and adjustments right out of the box – as well as the ability to do moving screen or sign replacement.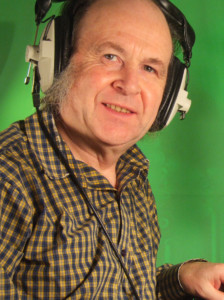 Chris North©2018 M.M.Inst.V IOV Area 6 Rep. April 2018
Copyright :  Institute of Videography (IOV) 2018
---
CoreMelt, SliceX, TrackX & DriveX are Registered Trade Marks of CoreMelt Pty Ltd Copyright Graphics and CoreMelt Images CoreMelt Pty Ltd ACN 134 625 095. Smith Street Wollongong 2500 Australia
---
To download the free fully-functioning 14 day
There are several excellent tutorial videos on the site.
Also, click the product's Help button once installed.
See their Show Reel on Vimeo :