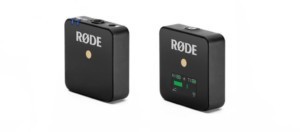 RØDE Microphones has announced the launch and shipping of the wireless GO digital wireless microphone system – the world's smallest digital wireless mic/receiver combination. Wireless GO will be showcased at NAB 2019 in Las Vegas, USA, April 8 -11. Wireless GO has clip'n'go versatility, a compact form and presents at an affordable price. It is an ideal wireless mic solution for content creators in all disciplines: filmmakers, on-camera presenters, journalists, vloggers and more.
---

The Transmitter (TX) Measuring in at a compact 44mm x 45.3mm x 18.5mm and weighing 31g, the Wireless GO transmitter (TX) acts as either a clip-on wireless microphone, due to its built-in omnidirectional condenser capsule, or as the world's smallest belt-pack transmitter for a lavalier microphone via the 3.5mm TRS input.

The Receiver (RX) The RX is just as compact, measuring 44mm x 46.4mm x 18.5mm and weighing 31g, which makes your rig easier to carry and facilitates mounting on a range of camera gimbals and stabilisers. Its dual-purpose mount can sit in your camera's shoe mount, or clip onto your camera strap or an item of clothing. The supplied 3.5mm TRS output cable plugs into your camera's audio input or, with the relevant available RØDE adaptors, into your recorder, GoPro, iPhone etc. There is also a three-stage output pad – 0dB, -6dB, -12dB – to tailor your output to your camera or recorder.

Features Operates as a clip-on mic or belt-pack transmitter for a lavalier/headset microphone. Built-in omnidirectional condenser microphone delivers broadcast-quality sound. All-new Series III 2.4GHz digital wireless transmission with 128-bit encryption designed to deliver clear audio under any condition, even in locations with dense Wi-Fi and Bluetooth activity like shopping malls, conventions, hotels etc. Up to 70m range (line-of-sight), but optimised for shorter-range operation in congested radio-frequency environments. TX and RX have built-in rechargeable batteries, charged via USB-C. Up to seven hours on a full charge, including a battery saver mode. Lightweight and compact: TX and RX are only 31g each. The transmitter and receiver pair in just three seconds. Three-stage output pad: 0, -6dB and -12dB. RØDE's smartLav+ (with an SC3 adaptor), Lavalier microphone and HS2 headset microphone are ideal companions for the Wireless GO when used as a belt-pack (and sold separately). Use up to eight systems in one location. Source Rode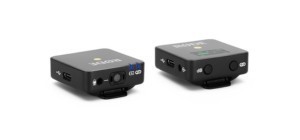 ---
WIRELESS GO Specifications (from rode)
ACOUSTIC & ELECTRICAL SPECIFICATION
Transmission type : 2.4GHz Digital Frequency Agile System
Acoustic Principle :Pre-polarised pressure transducer
Polar Pattern :Omnidirectional
Equivalent Input Noise @ Maximum Gain :21.8dB (A-Weighted)
Frequency Range :50Hz – 20kHz
External Mic Input :20Hz – 20kHz
Maximum Output Level :+3dBu
Maximum SPL :100dB SPL (1kHz @ 1m)
Dynamic Range :100dBA (Mic Preamplifiers)
Power Requirements :Inbuilt Li-po battery rechargeable via USB
Battery Life :Up to 7 hours
Analog Inputs : 3.5mm TRS lavalier microphone input (transmitter)
Analog Outputs :3.5mm TRS (receiver)
Computer Connectivity :USB (firmware update)
OS Requirements : (For firmware update only) macOS 10.11 above Windows 10 and above
MECHANICAL SPECIFICATION
Dimensions (L x W x H, mm)
TX: 44 × 45.3 × 18.5 RX: 44 x 46.4 x 18.5
Included Accessories
2 x fur windshield, 1 x pouch, 2 x USB-A to USB-C cables, 1 x SC2 cable