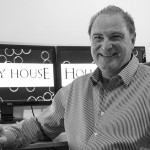 It is with great sadness and regret that I have to pass on the news that IOV member Colin Fowler passed away last week.
Colin had been a member of the organisation for a many years and had won many awards for his work and quickly gaining his IOV Fellowship. In 2001 I became the IV's Assessment Officer and was asked to choose who I would like to have in the new assessment panel with me; my immediate choice was Colin.

As a result of this we spent several enjoyable years assessing the members' work as well as staffing the 'drop-in' assessment clinic which was then part of the annual IOV show both at the National Motorcycle Museum and latterly at the Ricoh stadium in Coventry.
Colin was a steadying force on the assessment panel, and both myself and Brett Allen, the other panel member, greatly valued his input and friendship and his appreciation of good red wine!
I know that Colin was admired and respected by many members of the IOV and by individuals in the wider world of video production, and so our thoughts and condolences go out to his wife Anne and his children.